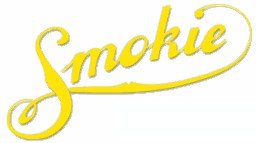 Mick McConnell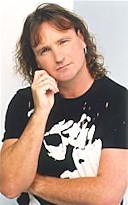 Life couldn't be sweeter right now for lead guitarist Mick McConnell. The youngest member of the band is simply "over the moon" with Smokie's success.
"When Uncovered went platinum in Scandinavia it was a brilliant feeling. We'd had a great time making the album and I really enjoyed working with the record producer because, like me, he was a real guitar freak. "The album was something all the guys were really proud of and thankfully the fans liked it too. We followed that up with Uncovered 2 and that was just as successful. In the meantime we've had a great time on tour. "I'll never forget China. That was an experience that was really special. I remember that on the afternoon of the concert in Beijing there was still a possibility that it wouldn't go ahead. I felt really disappointed, but somehow I knew, at the back of my mind, that it would be OK.
"There's something spooky about being in Smokie. Everyone is so together and that makes things work. We didn't just make it happen, we made it an unforgettable experience- both for us and the Chinese audience. "We had no idea what to expect. They aren't used to seeing bands from the West. We didn't know how many would come or what sort of reception they would give us. "We needn't have worried. The best moment was when we played the Chinese song Nan Le Wan. They loved it and from that moment on I knew it was going to be fantastic.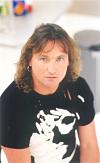 "They say the Chinese are inscrutable and reserved. Well you wouldn't have thought so. We had them on their feet, clapping their hands, singing along and in the end the police had to stop them clambering on to the stage. It was an emotional moment for all of us and I remember that when we got back to the dressing room we were in a state of elation and euphoria.
"We love playing to big audiences wherever we are and it was a thrilling experience to go on tour in the UK this year - the first time the band had been on the road in their home country for a long time and obviously my first time on tour in Britain."
Mick comes from Dewsbury, just a few miles down the road from Bradford - Smokie's spiritual home. He first got to know the band when they were touring Germany where Mick had been playing regularly with another band. He was also busy working as a guitar teacher but couldn't resist an offer to join Smokie on tour in 1996 as a stand-in for Alan Silson, who was ill. When Alan decided to call it a day the band invited Mick to join their ranks on a permanent basis and the rest, as they say, is history.
"More recently I have released a solo album, "My Kinda Heaven". This was a personal project on which I collaborated with some good friends and really enjoyed doing something different from the normal. But don't worry, I am still with Smokie and have no plans to change that". Mick has his own website where you can listen to tracks from the album and read his latest news.
"I really enjoy all the travelling," he said. "I know some people hate all the time in the air and on the road but I can honestly say I love it because I always like to see places and meet friends, old and new, and our amazing fans. "From the very early days, when I first joined the band, I was always made to feel very welcome and as time has gone by I've increasingly felt that I'm a part of something very special. We're very together and we all get on really well.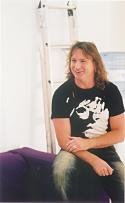 "As far as the music is concerned we all have our say and as far as playing lead guitar goes I have a fairly free hand, which is the sort of role I've always wanted. A few years ago I started to learn the saxophone and I've just started to play it again at home. Maybe one day I'll bring it out on stage and play a solo! "It'll never take over from playing the guitar. I'd like to think my guitar playing is better than ever and I think that has been recognised within the industry through things such as my endorsement with Fender Guitars.
Mick is also an ambassador for Hughes & Ketner and as you can see here.
"All in all life's pretty good at the moment. Things are hectic with Smokie. We're so busy and more in demand than I've ever known. "I've come a long way for a lad from Dewsbury, but I'm proud of my roots and determined to enjoy every minute of it all. I'd also like to thank our fans for everything. I don't think there's a band with better fans anywhere in the world"