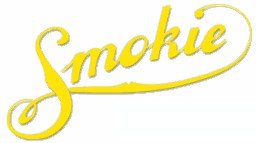 Steve Pinnell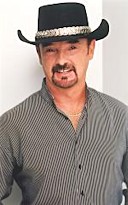 Drummers in a lot of bands sit quietly at the back of the stage. Well not exactly quietly - lets face it they are paid to make noise. You know what I mean though. The guy sitting behind the drum kit is heard but rarely seen. Well Steve Pinnell is no ordinary drummer. In contrast to the quieter members of the drumming fraternity, Steve is someone who is at the very heart of the performance on stage.
At one some point during the concert you'll see Steve at the very front of the stage. He certainly knows how to work an audience into a frenzy of excitement. His trade mark bandanas and wide-brimmed hats are a familiar feature of Smokie and have been since he joined the band in the mid-eighties.
"It's better than being a milkman," he says. "Joining Smokie was the best thing I ever did and from the day that I did I felt I was in my perfect position. "The only thing that constantly surprises me is how things keep on getting better and better. Yes, we've had a few low points along the way, but it's remarkable how the band has always bounced back to do even bigger and better things. "You only have to look at the past year. Uncovered was a great album experience. We loved being in the studio again and although we were happy with it, you never know how the public are going to respond.
"As we now know the album sold incredible amounts. We seemed to be in the charts in countries like Denmark and Norway for ever and ever. "Then there was the China trip. What an incredible experience that was - something I'll never forget. Those smiling Chinese faces and the way that the audience jumped about. It was absolutely fantastic. We came off the stage on a real high. I was delighted the experience was recorded for posterity by the documentary crew from Yorkshire Television.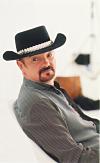 "Those concerts in Beijing have been seen by a massive television and video audience and I'm thrilled it's something we've been able to share with people. I loved the chance we got to sample the culture in China too. I never tire of seeing new places. "So it was a fantastic trip for me, even though at one stage it looked as if we'd never get on stage.
"Then to start the new year with our first British tour in donkey's years was another great milestone. The audiences were brilliant and I can tell you we really loved it." One of the things that most impressed Steve when he was invited to join the band was the ambition the guys had to go on breaking new ground. He soon realised that the band members weren't just colleagues and team members, they were also really good friends. "That's even more the case today I think than at any time in the past. We're really together as a unit and ultimately I think that has to be the key to whatever success we've had. "I'd like to thank not just the rest of Smokie, but the lads in the crew and the folk back at home - because it's a very closely knit group of people who are all genuine friends."
Steve lives in the north-east, near Middlesbrough, with his wife Val. They have three rapidly growing up children - two sons and a daughter, and one of the lads plays drums like his dad. When he has some time off work and family commitments allow, Steve has two sporting passions. He loves football and closely follows the fortunes of Premiership club Middlesbrough. He's delighted they've avoided relegation and now hopes that former England coach Terry Venables stays on at the Riverside Stadium.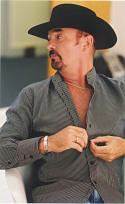 Steve also loves golf and tries to play as often as he can. His current handicap is 9, although at one time it was down to 5. Watch out for him on the pro-am circuit and if you spot him try and place a bet.He twice won the Norman Wisdom Pro-Celebrity Classic, held annually on the Isle of Man. He has also played with the legendary South African Gary Player and the great Ian Woosnam. "I love my golf. It's a great relaxation for me and I find it really helps me re-charge my batteries for the next tour.
"As far as Smokie is concerned I'm just as excited about the future as I've always been. I think the band sounds tremendous at the moment - Mike's voice, Terry and Mick's harmonies still send a shiver down my spine, and live in concert I think we're probably more together than we've ever been.
"Finally a huge thank you to the fans. They are truly brilliant. As long as you want us - we'll be there for YOU !"