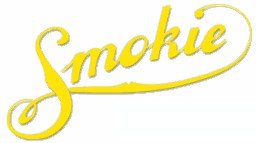 Smokie Facts and History
Smokie's first hit was "If You Think You Know How To Love Me."
Smokie have sold over 30 million CDs, records and albums.
Smokie had 13 top twenty hits during the 1970s.
"Living Next Door To Alice" has sold over 10 million worldwide.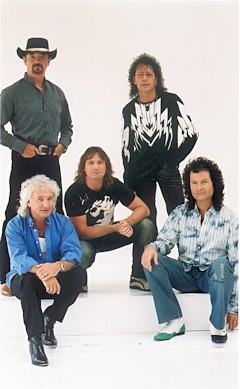 According to bass player Terry Uttley, a founder member of almost 40 years, Smokie has never been in better shape than now. As the only original band member out of the 5 current members he has been on board since the beginning in 1975, when Smokie called themselves Smokey and released the debut album "Pass It Around". He has experienced both ups and downs, but for the most part he has experienced successes, a long row of number 1 hits, full stadiums and three generations of enthusiastic fans.
Perhaps Smokie is best compared with Brazil's national football team - regardless of the substitutions on the team, Brazil continues to play the best football in the world. In the same way, throughout the years, Smokie has experienced a row of substitutions without damaging the team, and today Smokie seems to have the strongest team ever: Mike Craft (vocal, guitar), Terry Uttley (backing vocal, bass), Mick McConnell (backing vocal, lead guitar), Martin Bullard (keyboard) and Steve Pinnell (drums and percussion).
Better Than Ever
"Smokie is not a team of stars. We are a band. Smokie is a sound and not dependant on one person, which is often the case on the pop scene. Our strength is our teamwork and I'm not afraid to say that our current composition is the best one ever. Smokie has simply never been better than today", says Terry Uttley.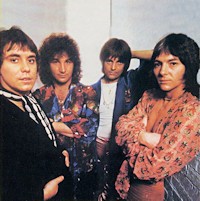 This statement is remarkable when looking back on Smokie's career, as there have indeed been many excellent musicians as well as superstars in the band over the years. It all started in West Yorkshire, England, in the beginning of the 70's. Terry Uttley joined forces with his musical friends Chris Norman and Alan Silson at St. Bedes Grammar School in Bradford and they formed the band "The Yen" which was later renamed "The Sphynx". The conditions were quite primitive - a four stringed guitar substituting as a bass, but this didn't discourage the band. And in spite of numerous name changes along the way nothing happened until the night in Cheshire when Bill Hurley discovered the band.
He provided the band with the crucial contact to the people who created the signature sound of British radio pop in the 1970's, Nicky Chinn and Mike Chapman. The first hit for Smokey (they changed the name to Smokie after a controversy with the people behind American singer Smokey Robinson) ended in 1975 with a ban by several radio stations as the title "Pass It Around" was thought to encourage smoking pot.
Popular New Songs
As Smokie the success was unstoppable. Hit by hit was released; "Livin' Next Door To Alice", "Don't Play Your Rock 'n' Roll To Me" and "If You Think You Know How To Love Me", which in a way founded the Smokie sound with close guitars and sharp vocals. The songs on the latest Smokie-album have the potential of becoming equally popular among the fans throughout the world. "Take A Minute" contains many of the smash hit features which in time have become synonymous with a Smokie release.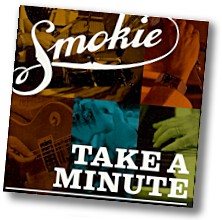 "Our sound is like the recipe for Kentucky Fried Chicken - it's a secret! But it's true that the vocal harmonies are our trade mark", says lead singer Mike Craft. On the new album one can, among other things, enjoy the vocals on the title song "Take A Minute" as well as the words on "Sally's Song (The Lagacy Goes On)" which continues the story of Living Next Door To Alice but in a different style. Also, for the first time on a Smokie album, Mick McConnell provides a solo vocal performance on the poignant song "'Till The Grass Grows Over Me". Terry also provides the solo vocals on the beautiful track "The Biggest Lie" written by himself and Mick.
Dramatic History
Mike Craft is just one of the substitutions in a band that refused to give up when things looked bad. Smokie covers a wide area age-wise from 53-year-old Terry Uttley to 40-year-old Mick McConnell. But the history of the band has been both dramatic and unique. The original lead singer, Chris Norman, was quick to have ambitions about a solo career after a successful duet with Suzy Quatro, "Stumblin' In" in 1978. And just as Smokie's success peaked - after five years on the road and on the hit list - the band decided to split up. And if things ever went fast before they went even faster. When Smokie decided to get back together in 1986, initially with Chris Norman as lead singer once again, but shortly after - when Chris Norman left again in the pursuit of a solo career - with a new lead singer, Alan Barton.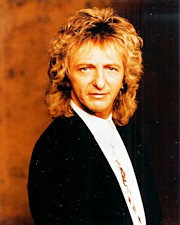 Smokie managed to reboot the career. What probably led to success the second time around was the album "Celebration" from 1994 containing among others "Can't Cry Hard Enough", which turned out to have a very tragic meaning for Smokie. In March 1995 Smokie was involved in a traffic accident on their way to the airport in Düsseldorf and while Alan Silson and Terry Uttley were badly injured, Alan Barton's injuries were so severe that he died after 5 days of struggling in intensive care.
For a long time Smokie considered giving up but due to heavy support from dedicated fans as well as from the media, Smokie began searching for a replacement and so, a good friend of the band, Mike Craft, has given voice to Smokie's very characteristic vocal ever since. With him on the team Smokie has written new chapters to the success story, the latest being the retrospective box set "The Hit Box" which through 10 CD's tells the whole story in music.
More Fun Than Ever
After almost 40 years one might fear that Smokie is burned out. That the group would want to rest on their laurels - and just play the old hits over and over again, but "On The Wire" proves the opposite; Smokie is in great shape! And the band is confirming their reputation of being perhaps the hardest working band in the business with 260 days on tour last year together with 178 flights from country to country with their tireless manager John Wagstaff.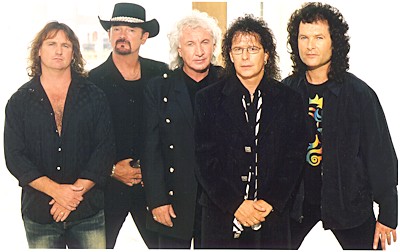 "Actually it is more and more fun to play when you get older. For the simple reason that you get better over the years", says keyboard player Martin Bullard.
"It is a passion", says veteran Terry Uttley. "When I was a child I thought that if only I was a pop star I could sleep late every day. As if! We get up early almost every morning and I hate early flights more than anything else. Some days are hard but everything is easier when you love what you're doing".
Drummer Steve Pinnell says it in plain English on behalf of everyone in the band that seems to become even more popular as time goes by: "I love this life! I can't imagine doing anything else."